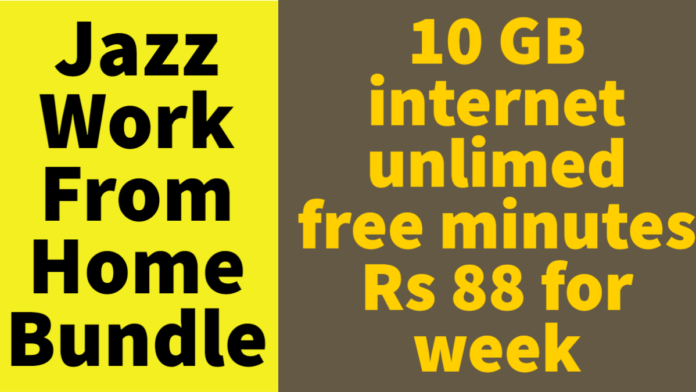 Due to the coronavirus all over the world is a lockdown including Pakistan, all the business and university classes held online. the whole world is connected online through the internet.
To facilitate its customer's jazz announced its weekly offer named jazz work from home bundle.in this offer, jazz customers get 10 GB internet and unlimed free minutes for 1 week in just 88 RS
---
Related articles; jazz free internet tricks
---
Now Stay Connected with Others During Lockdown with Jazz Work From Home Bundle
OFFERS DETAILS
in this offer, you will get 10GB internet and unlimited jazz free minutes used from 8 AM to 6 PM.
HOW TO SUBSCRIBED OFFER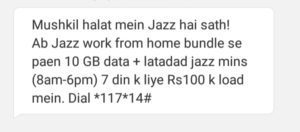 To subscribe this offer you just need to dial code *117*14#
PRICE OF OFFER
price of jazz work from home is 88 its means you need only 100 RS lode.
VALIDITY
The validity of this offer is 1 week
TERMS AND CONDITIONS
This offer can be used between 8 AM to 6 PM
call setup charges are o.15 per call
this offer is not auto-subscribe customers need to dial subscription code again.
internet speed depends upon your location and device you are using 2G3G,4G
default internet charges are 5 RS if you are using the internet without internet bundle
This offer is for only prepaid users.
---
watch the video for more details
---
CONCLUSION
in my point of you, jazz work from home offer is a good offer for jazz customers, they can enjoy double benefits the internet and minutes to connect loved ones. I hope you will like our this post if you have any question related this post please comment blew and also share this offer with your friends.